Regular price
$49.95 USD
Sale price
$49.95 USD
Unit price
per
Sale
Sold out
UpDates for M2
Patent Pending Angle Indicator on the Tree Straps (See Pictures)
Chinch Strap on bag (Allows you to attach to outside of backpack)
Slightly Wider Tree Strap

Features

BIG ENOUGH FOR BIGFOOT: At 6.5ft wide, 10ft long, triple stitched seams, and a Safe Working Load of 550lbs it holds two people like a pro while easily packing into its small bag

SUPER STRONG TREE STRAPS: It Comes with two 10ft long 1inch wide tree straps that have 15 + 1 Daisy loops each. Made from an upgraded high strength polyester webbing they are 50% lighter than competition while having Safe Working Load of 550lbs/ Strap!

ALUMINUM CARABINERS: Webbing ends and Aluminum carabiners look cooler while being lighter and stronger than normal rope and steel carabiner ends (PS: Other companies charge $10 just for these carabiners)

BABY BUTT SOFT: Para-Chill™ Soft Water Resistant 70D Parachute Nylon


with a 210 thread count, so it's super soft and just as durable

SMILES ONLY CLUB: Dog accidentally eat your hammock not your homework? No problem we'll replace it. We know our product is better than the higher priced competitors, and so do all the reviewers. Give us a try because we have a no hassle refund policy
Specs
Weight 1lb 4.6oz w/out straps 

 (1.8lbs or 29oz with 8.4oz of tree straps)

10ft long 4.6ft wide

Para-Chill™ Soft Water Resistant 70D Parachute Nylon

12kn Aluminum Carabiners
1inch wide 10ft long tree straps with 15 +1 daisy loops
Capacity: 

550lbs/250kg (2 Person)
Colors
Vintage track Suit (Turquoise, Salmon, White)
Wild Turkey (Darker Khaki, Royal Blue, Peach) 
Midnight Rider (Dark Blue, Charcoal Gray)
Just Peachy (Peach, Sea Foam Green) 
Lady Liberty (Sea Foam Green, Light Purple)
Materials

Para-Chill™ Soft Water-Wind-Stain Resistant DWR Coated 70D Parachute Nylon
Anodized 7075 Aluminum (12kn Carabiners)
High Strenght Polyester Webbing 
Shipping & Returns

Smiles only guarantee and Life Time Warranty. Love it or send it back.
Care Instructions

Take down after use (sun damage is real)
Machine wash with cold water/ air dry
Share
View full details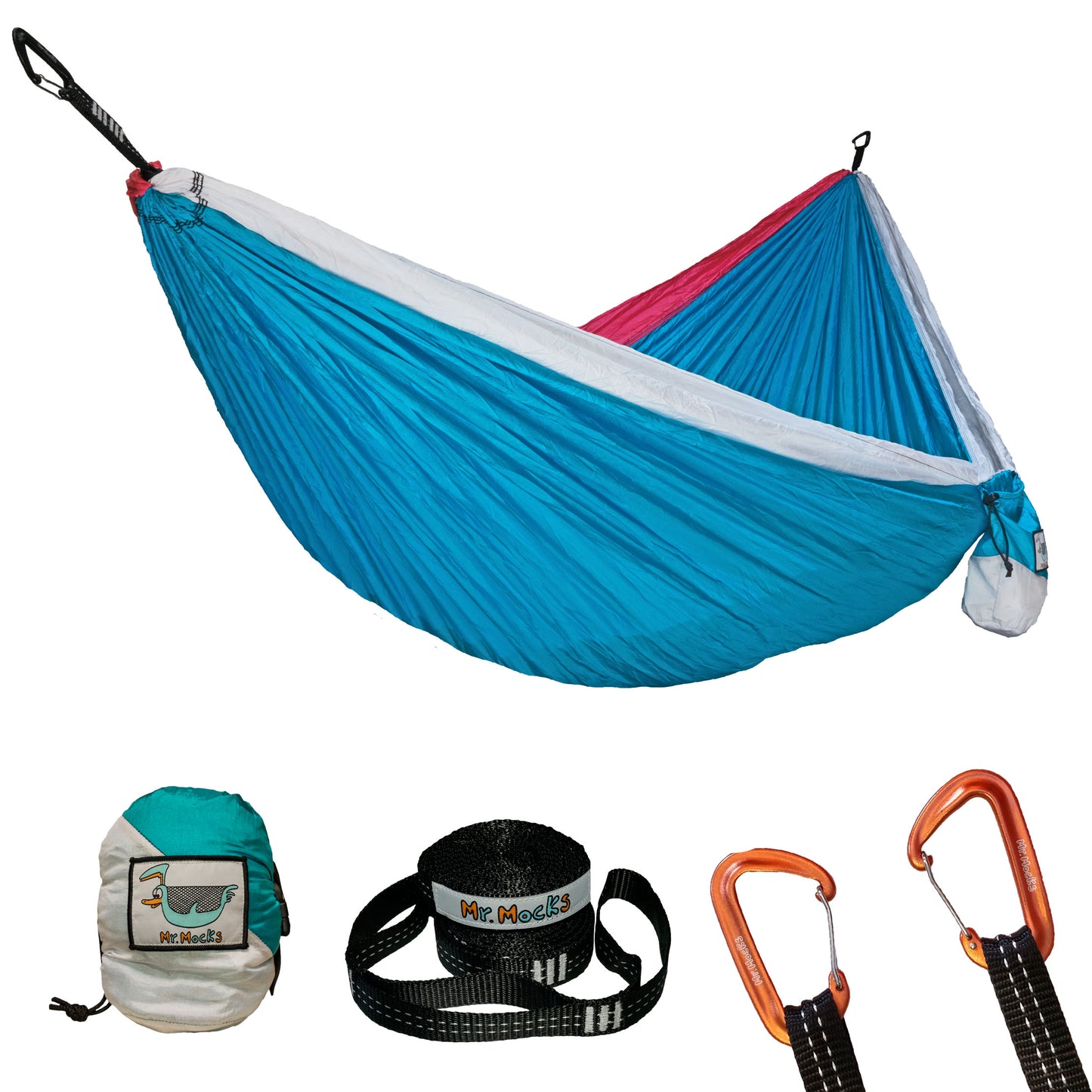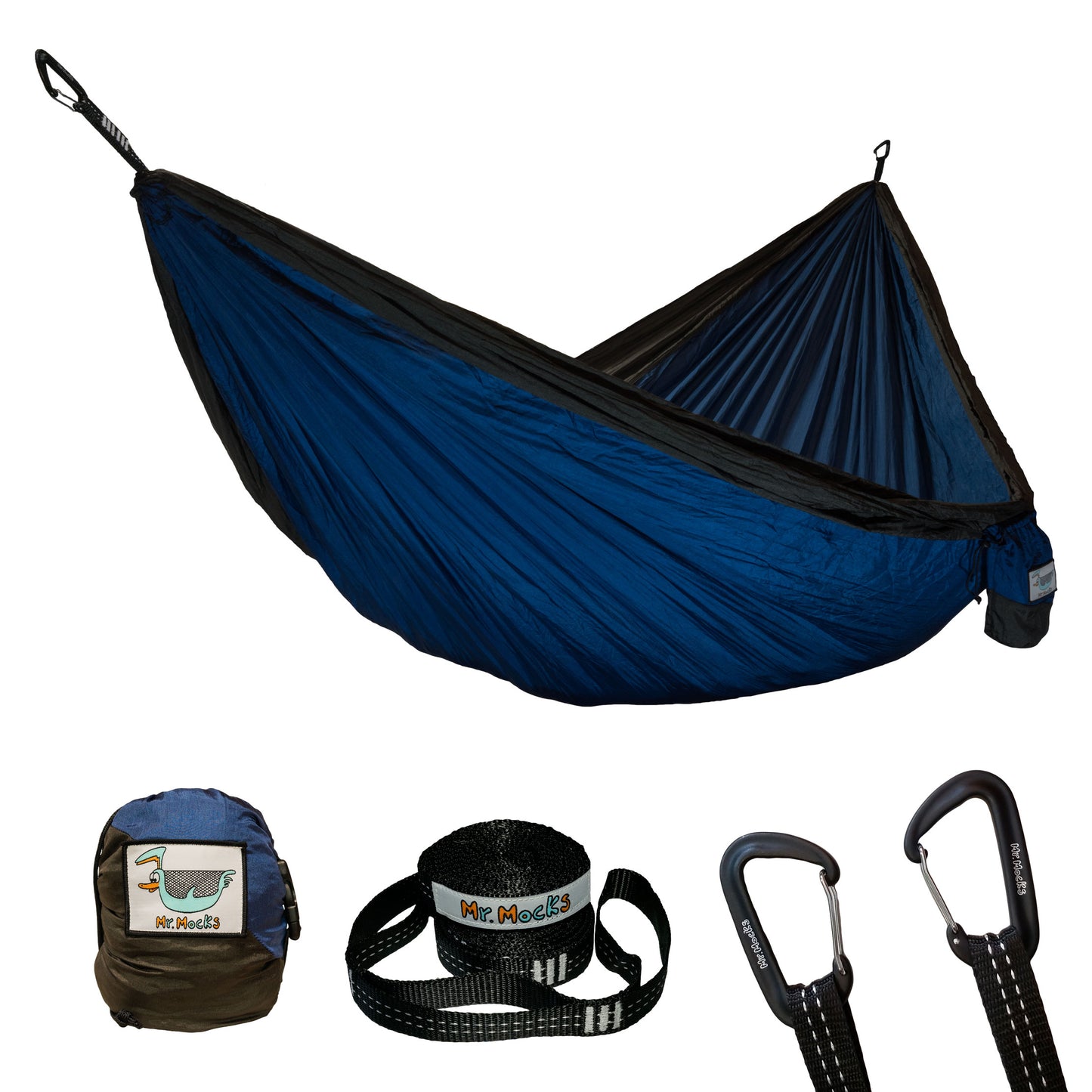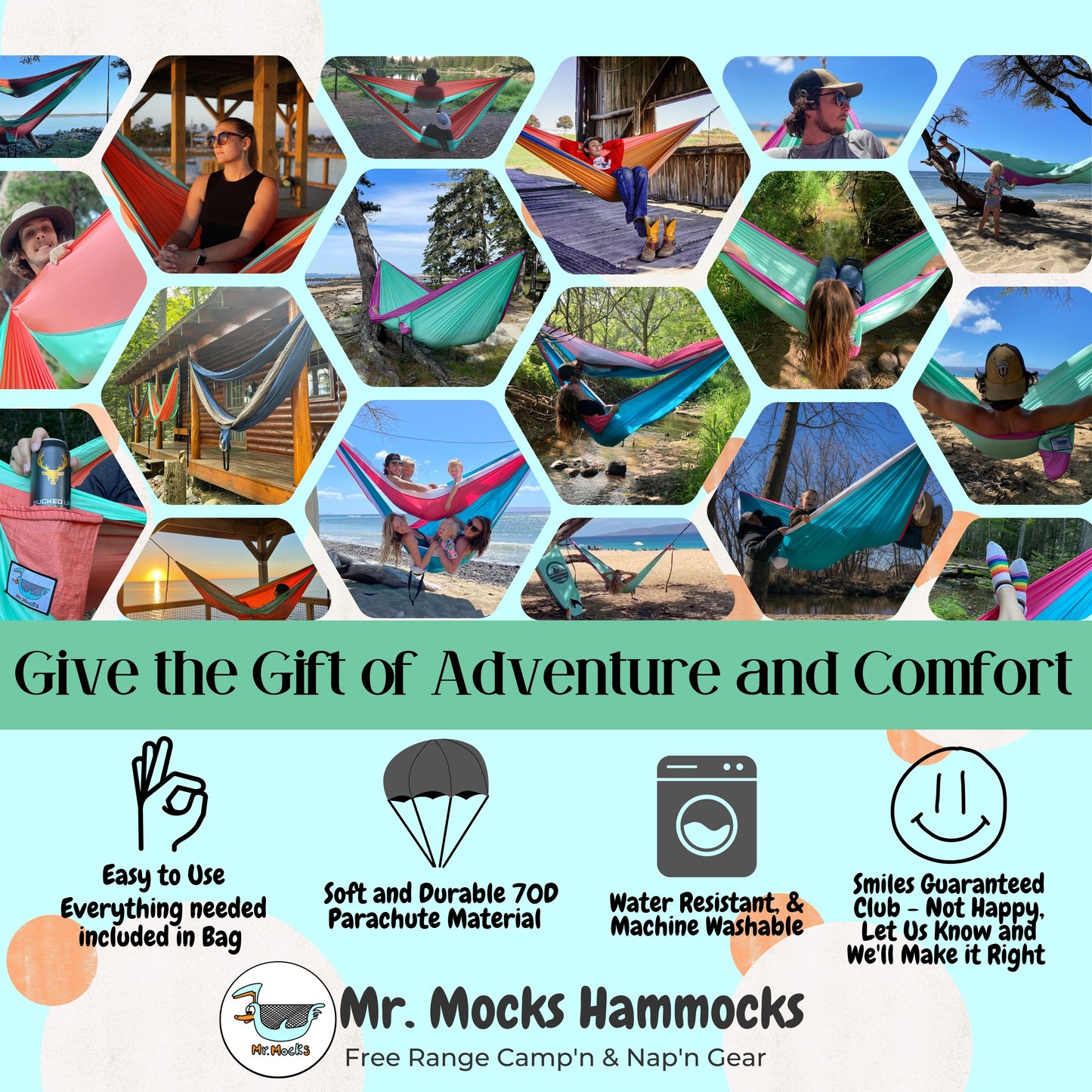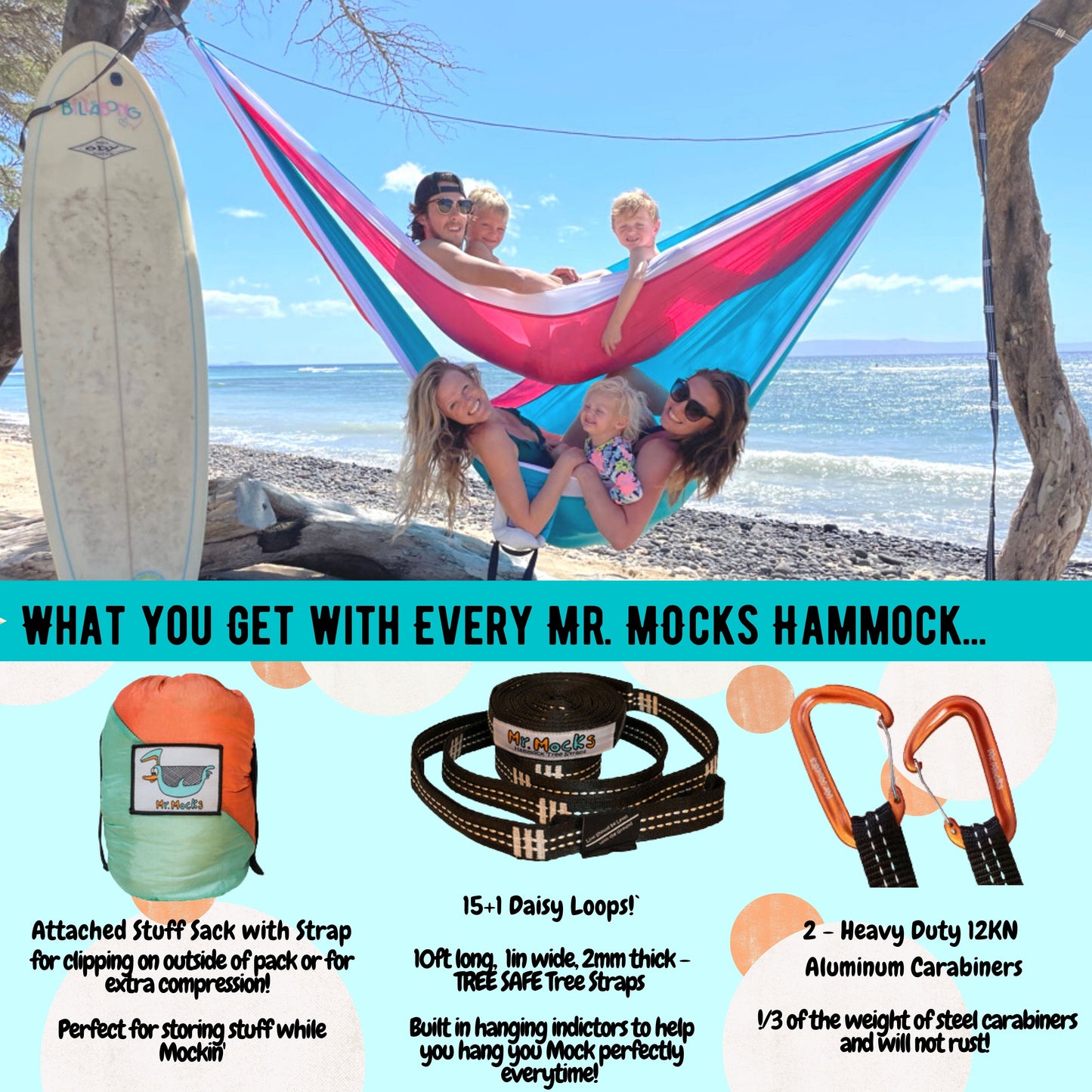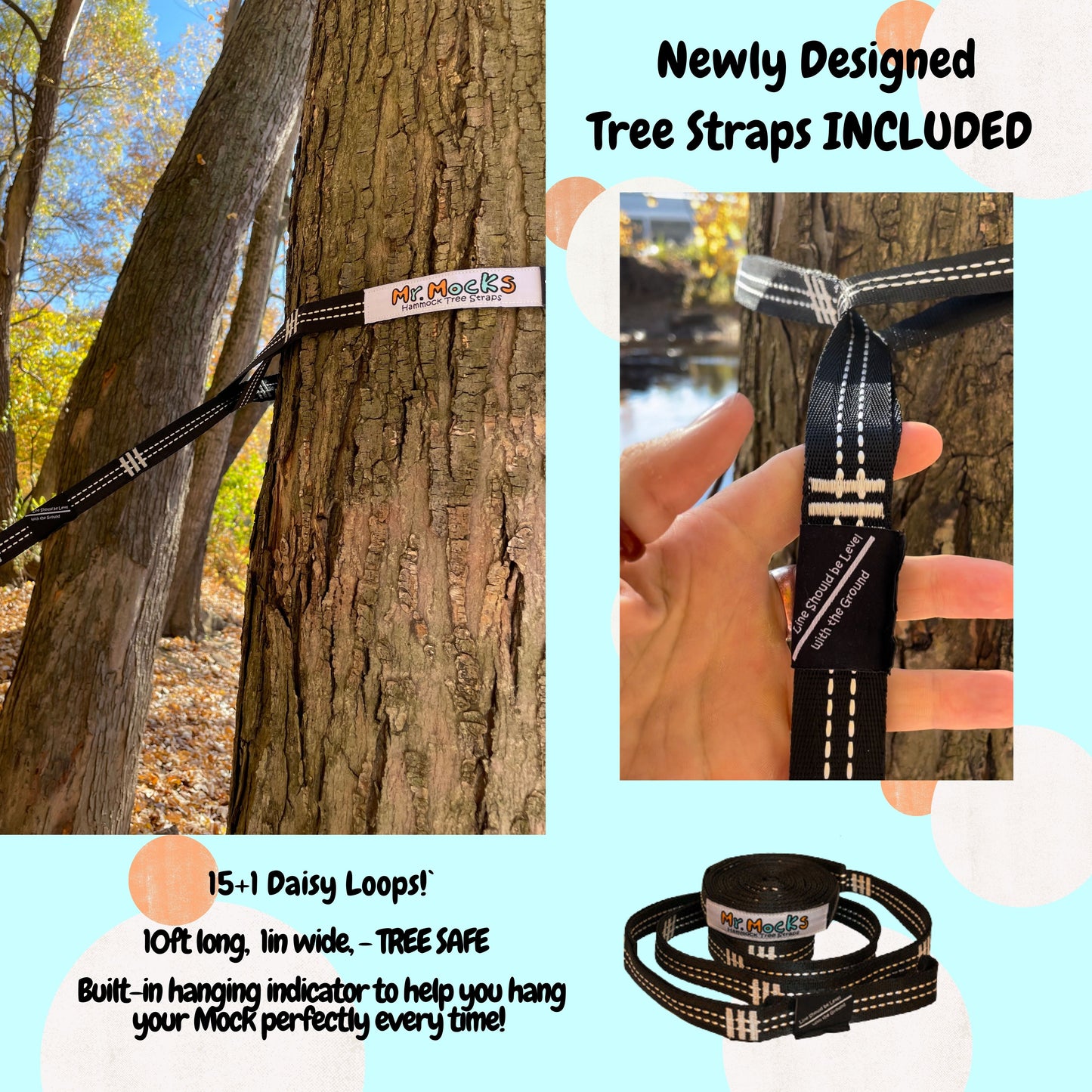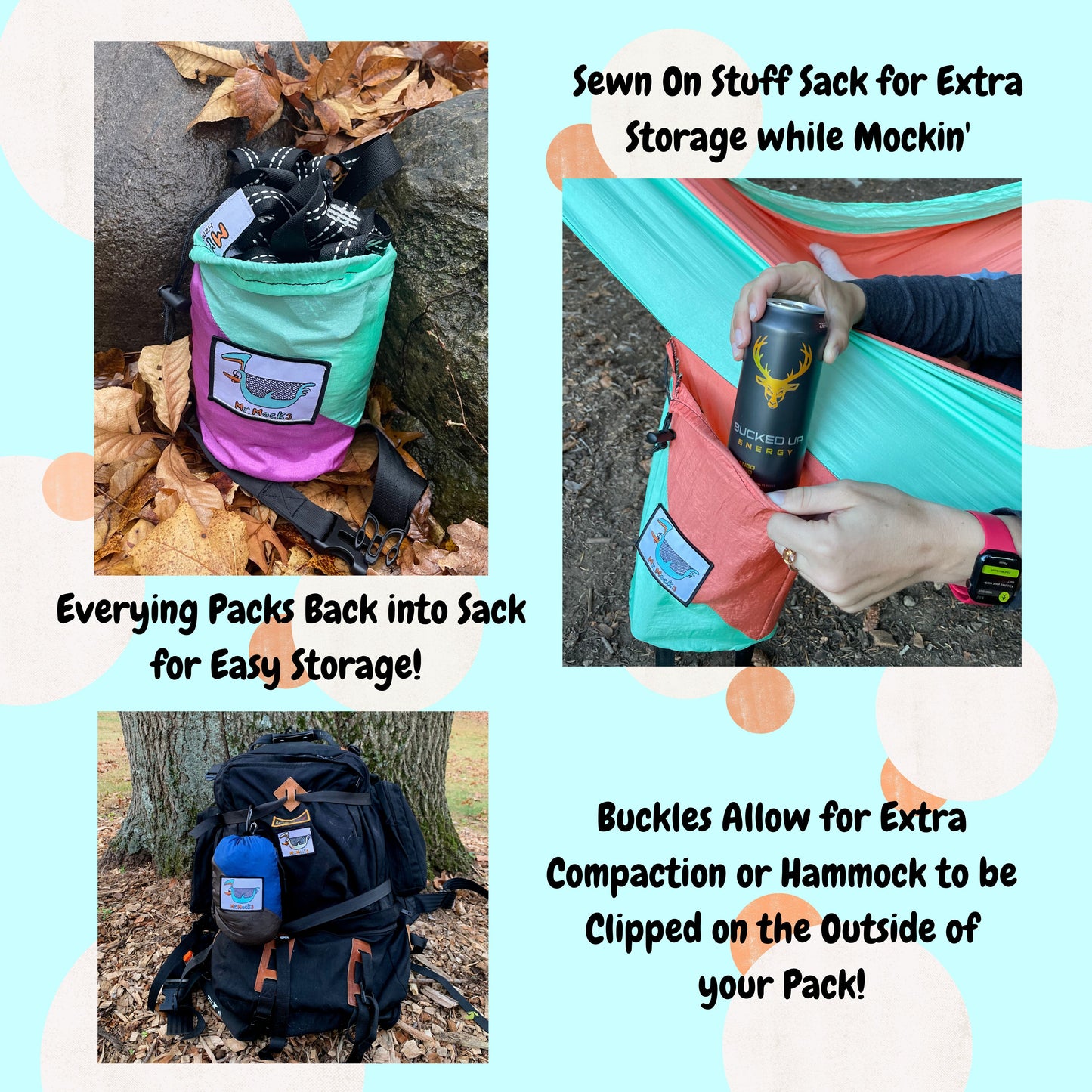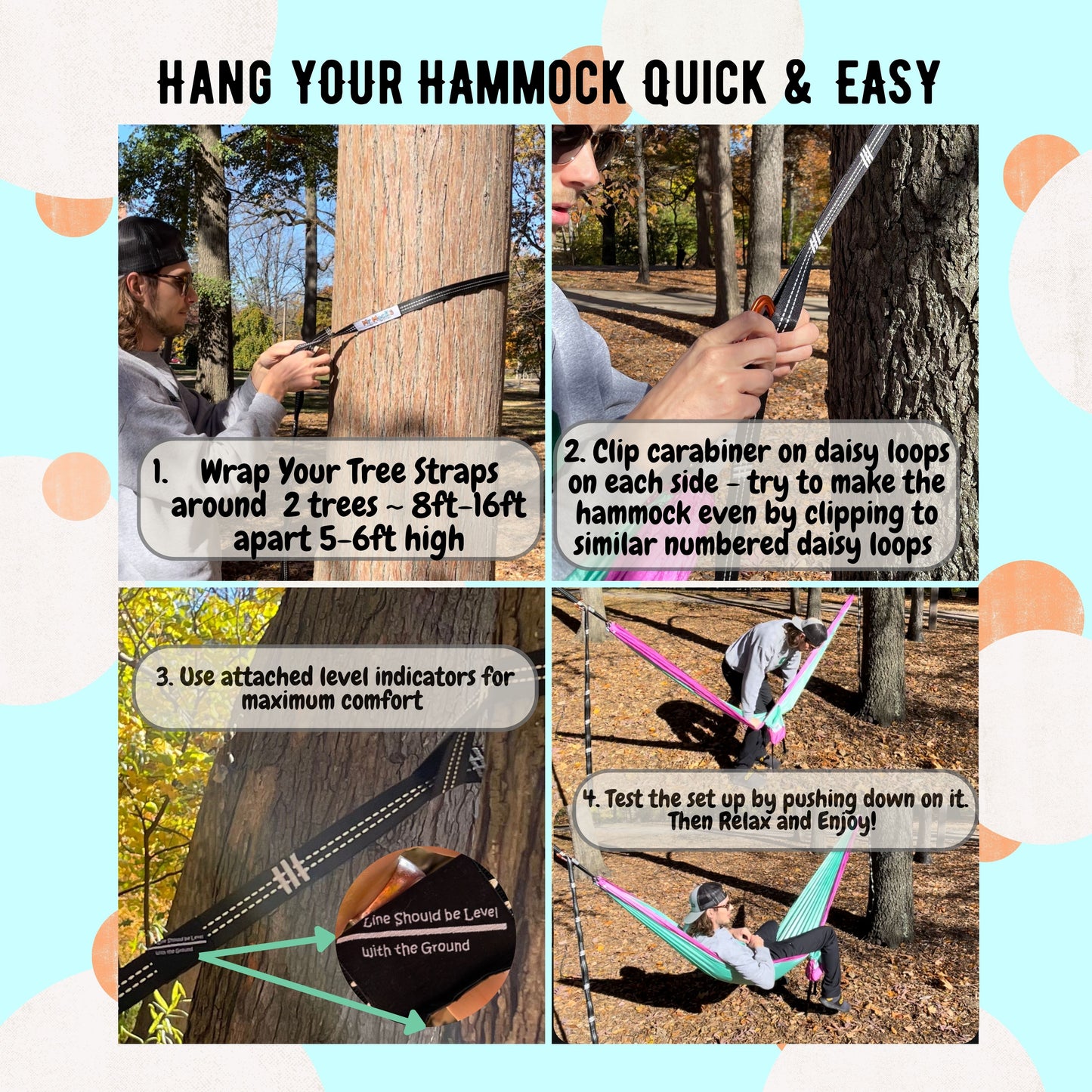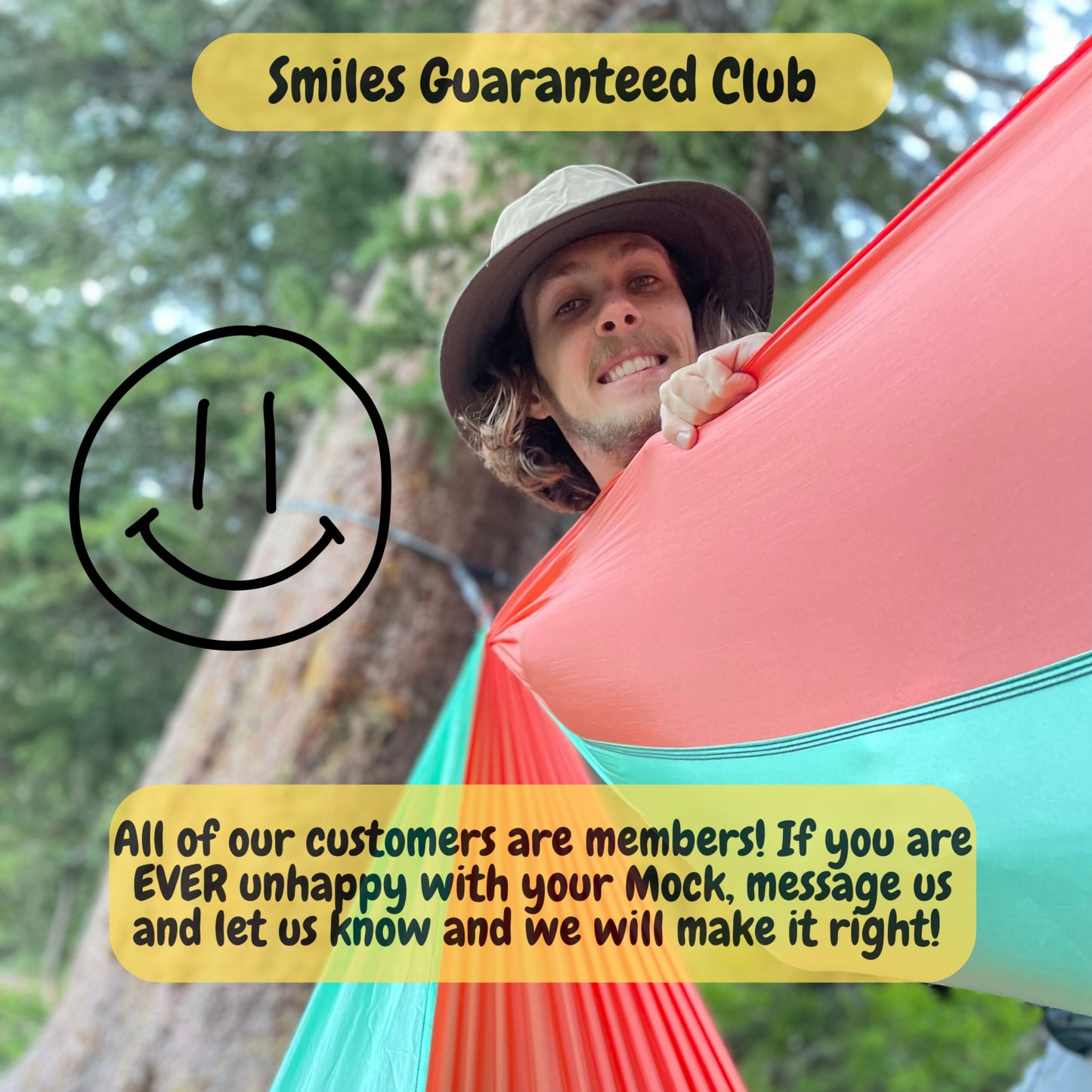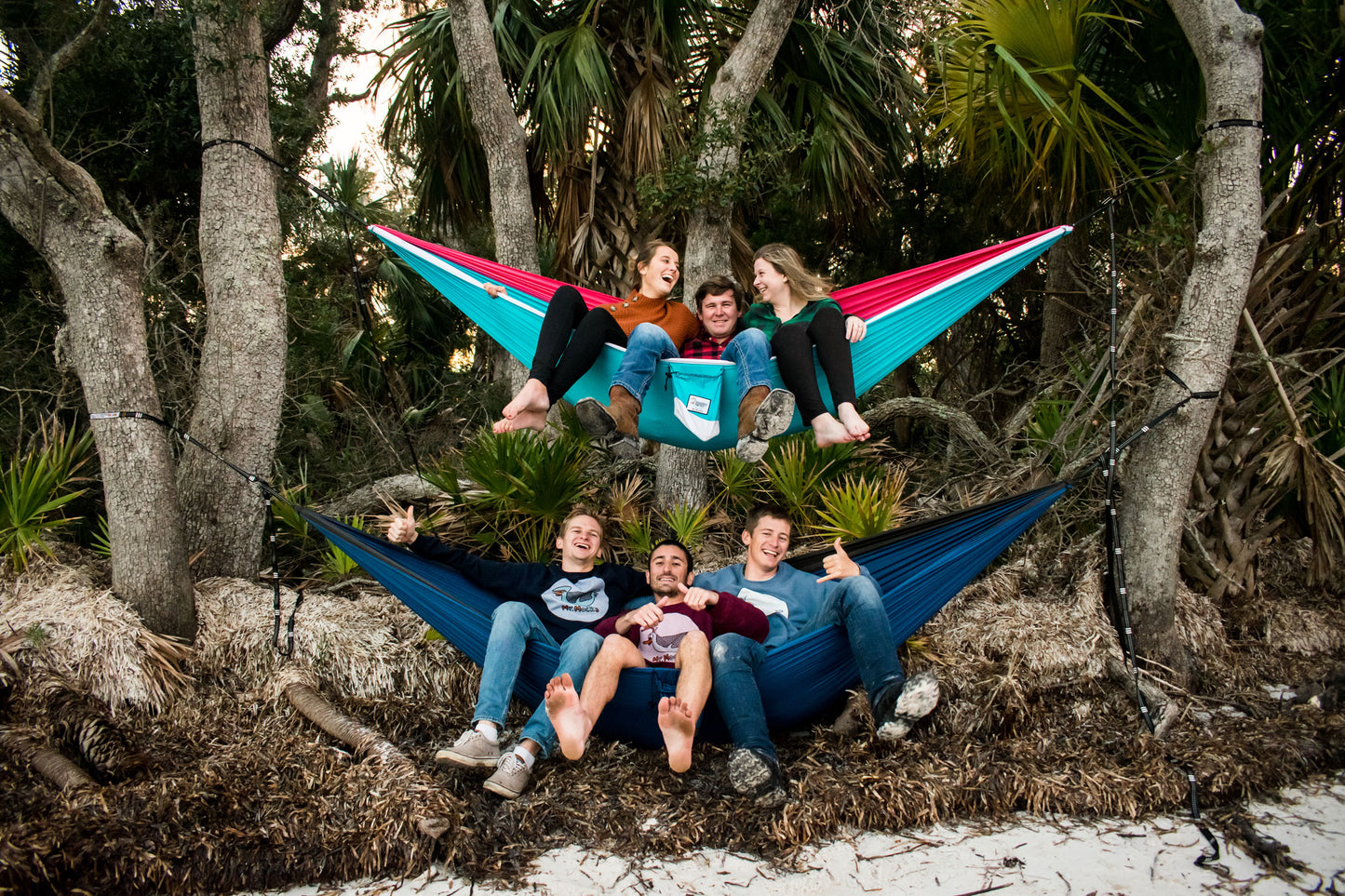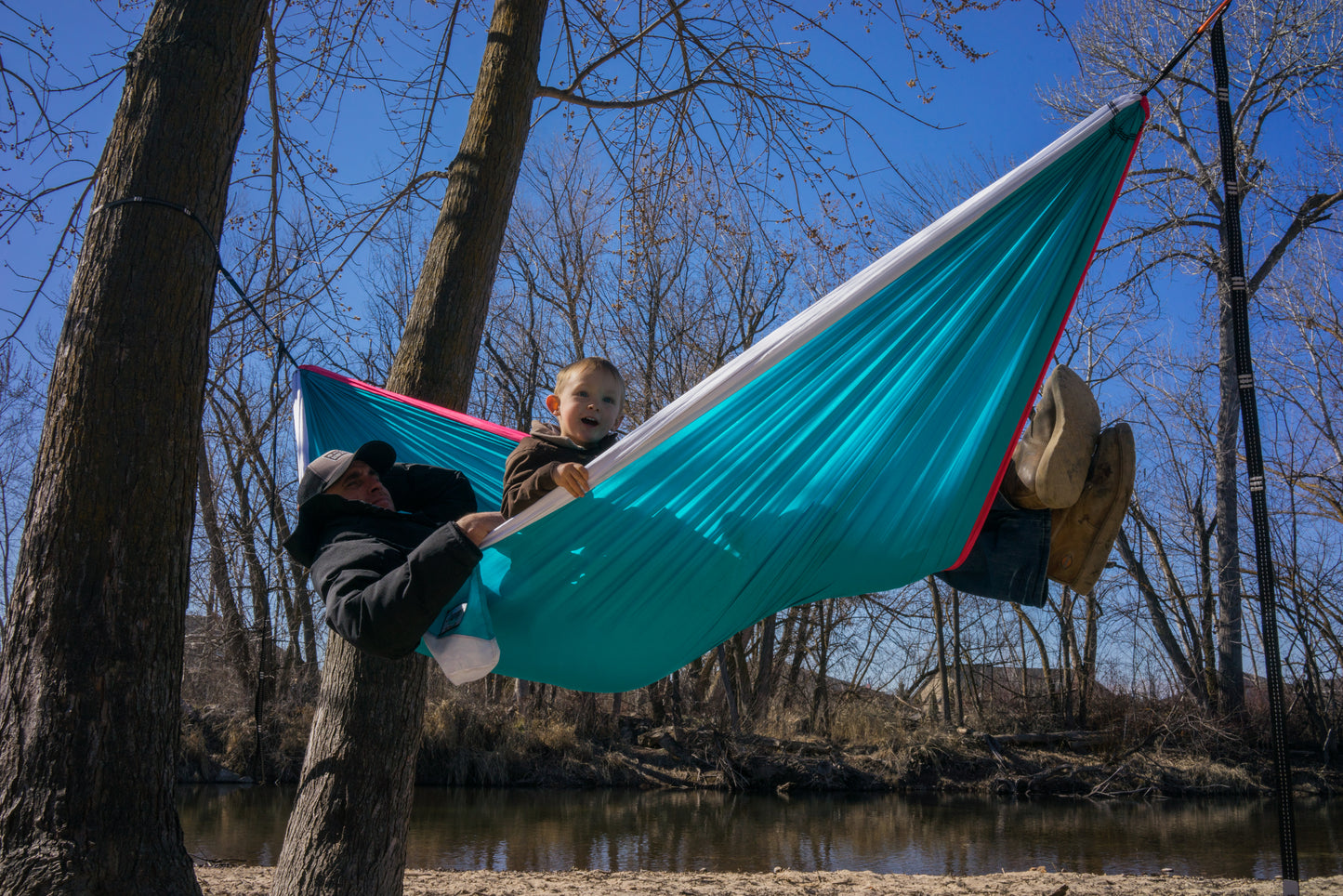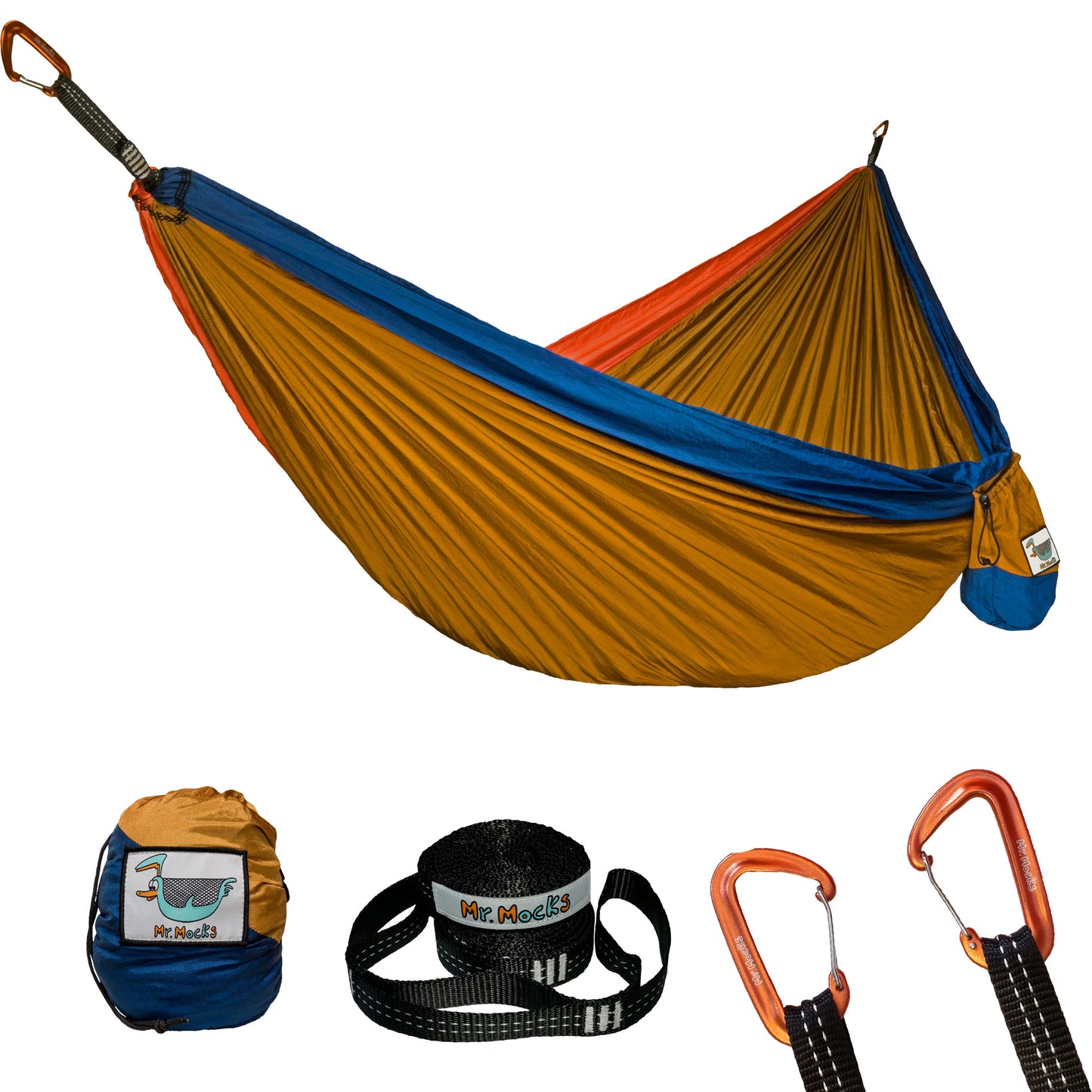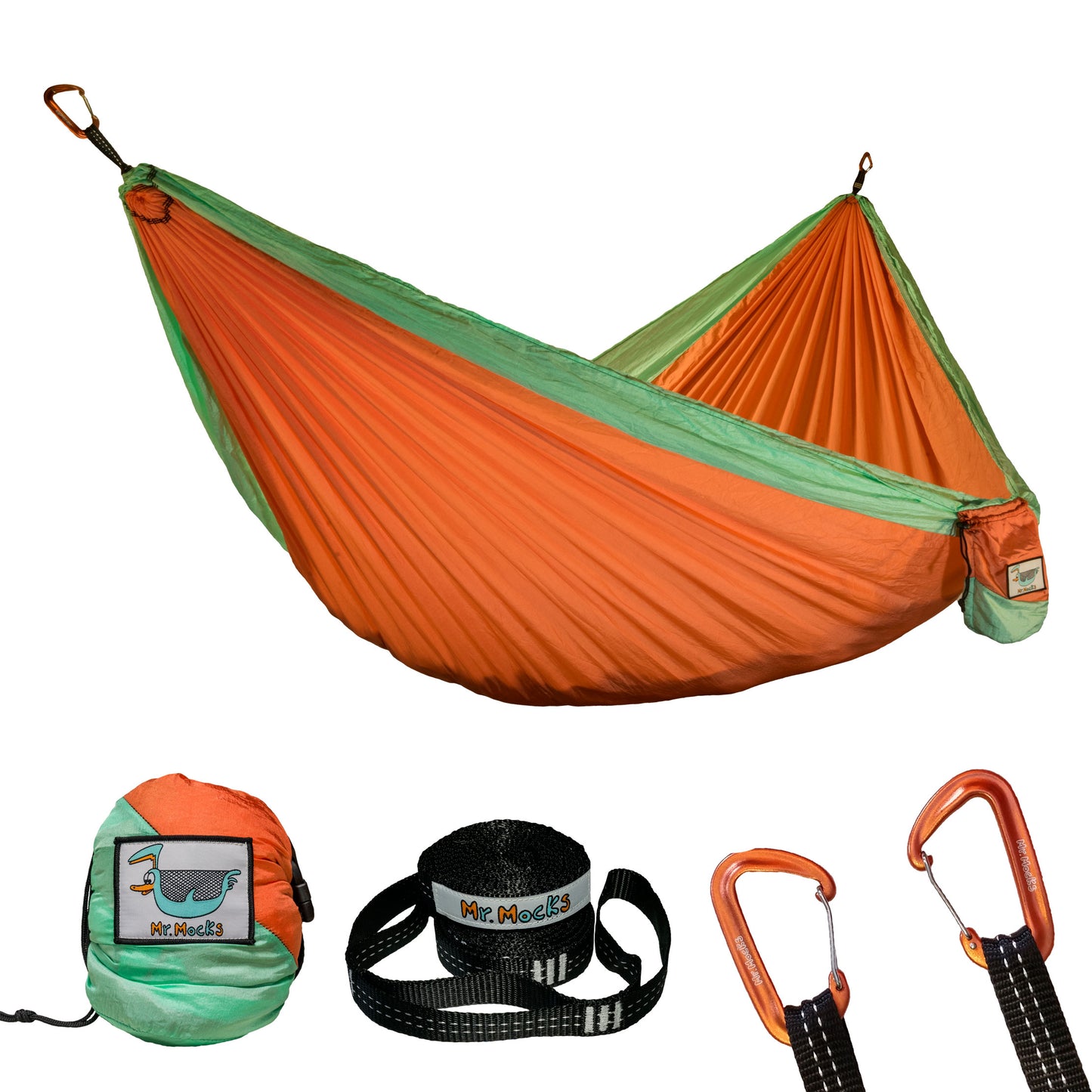 Stop looking and buy this one
This hammock is legitimately awesome. You honestly do not need to look further. It packs down pretty nice, doesn't weigh a ton and is comfortable to sleep in for camping. The tree straps and carabiners that came with is are quality. I think this is a one man operation and if so and you read this solid work my man 🤙🏻🤙🏻🤙🏻
Amazon Verified Purchase
World's Greatest Hammock
I'm not sure what drew me in to a Mr. Mocks hammock when I searched amazon for hammocks that fateful day. Was it the colorful name, the weird font, the weight limit or perhaps it was just the hammock that would arrive to me the quickest as I demand instant gratification. whatever the reason I feel I have made a wise choice. I am not a svelte man nor am I reaching the weight limit of this hammock, but may soon be if quarantine continues much longer, I still felt that I may rip through this hammock the moment I entered it as I have never had one made of nylon. as I positioned my body to enter the hammock for the first time I prepared for the worst, ridicule from my children if I somehow managed to rip right through material. Alas, I would not be the children's means of entertainment this day as not only did the trees not collapse but the hammock supported my husky body in all its glory. I laid in that hammock for all of a minute before being hounded by the kids to have a turn in it as well. The kids took turns enjoying the hammock while I sat there wishing I could have a turn in the hammock I had just bought for myself. My only solution was too purchase 2 more for them which arrived today. The only thing is now I see they have 2 NEW COLORS which I wish I had waited for that midnight rider but one of the kids probably would have taken that from me as well. I would definitely recommend Mr. Mocks for all of your hammock needs.
Verified Amazon Review
Never going back
Thank goodness my son found you guys! He brought me to this page after some extensive research about the hammock he was going to be living his teenage summer in. After looking into the company and product myself we ended up with a double and a single. The quality of the hammocks are top tier and I love supporting a company that has great vibes and ethics. I'm sure we will be back! Run don't walk to the ease of use and comfortable resting that this provides.
Wonderful hammock company
We ordered for the second time a Mr Mocks hammock. They are wonderful and very sturdy and comfy. You also couldn't ask for better customer service!
Got as a gift for my partner, just as fabulous as mine!
I continue to be so impressed with Mr. mocks and recommend them to anyone I know who wants to try hammocking. Greta quality great price. Wonderful customer service experience as well.